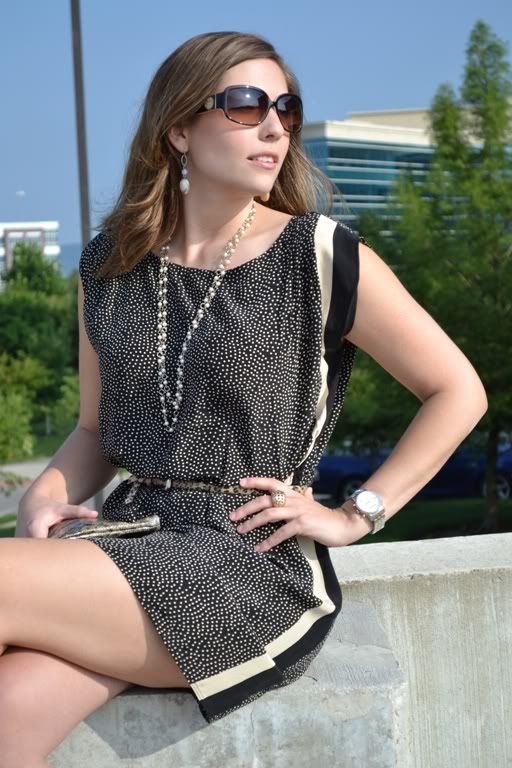 Back to work.... but hooray for a short work week!! To ease into the first day back to reality after the long weekend, I picked this light and comfortable dress to wear. This dress is honestly even more comfortable than some of the swimsuit cover-ups that I have - and one of my favorite things is that it can be dressed up or down for almost anything. Stuck with neutral colors for the trench and the shoes as there are 3 patterns going on here already... and if I wore bright (red, perhaps?) heels with this dress and a leopard belt to work, I would get some 'Peg Bundy' type stares. I try to avoid those.
I'll take this opportunity to answer a few questions that I anticipate from this post:
Q)
It's July. Why the trench coat?
A)
Because it is a summer weight shorter style trench that I just LOVE. But really what happened was the crazy weather looked like rain and storms all morning, so I had my heart set on wearing this trench. When I got closer to work to take the pics and it was starting to get really sunny - I still had to at least wear this in a few :)
Q)
Do you own a hair dryer?
A)
Yes, and I LOVE my hair dryer! But we are on a break. I'm trying to take full advantage of the
miserable
heat and humidity this summer and let my hair air dry to avoid unnecessary damage. In my mind this will lead to bouncy, perfectly healthy, shiny strands this fall and winter..... but I'm not holding my breath.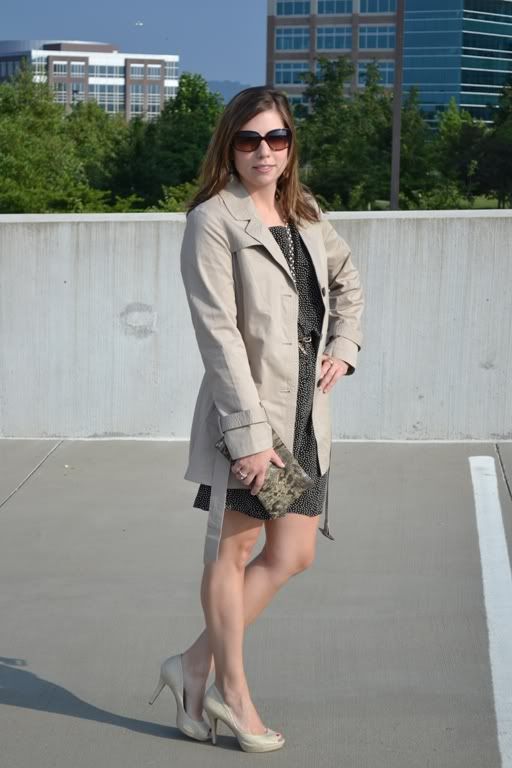 Urban Outfitters dress; Banana Republic trench; Apt 9 belt (Kohl's); Vince Camuto pumps; NY&Co earrings (old); AT Loft necklace (really old); Michael Kors watch; ring and Eliza B clutch from Coco Bay Boutique; F21 ring; Coach shades