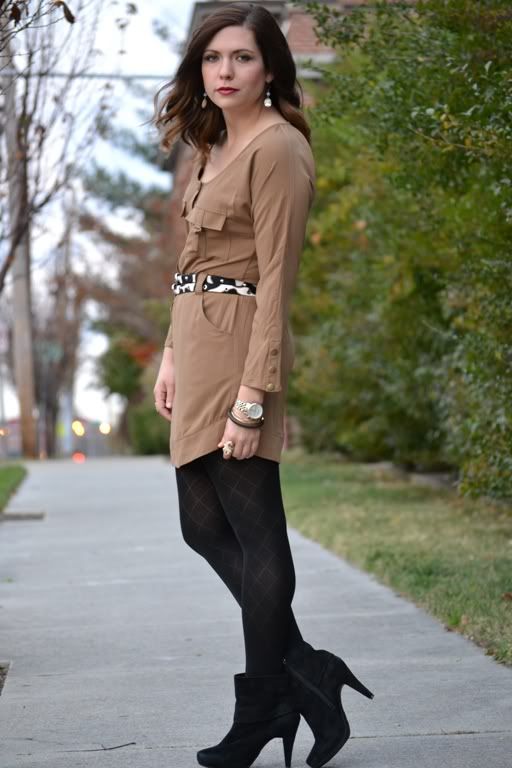 Sometimes I'm more comfortable in a dress and tights than in anything else. It's funny how often this is my go-to outfit even when I'm not feeling 'dressy' - just because it's easy and comfortable. Don't get me wrong, I love a good pair of jeans. It's just nice that they're not my only option when it comes to more comfortable outfits.
I find that I'm almost always in skirts or dresses on the weekends. Again, not because I'm feeling super dressy, but because I can wear jeans to work on Fridays (yes, it's exciting). But what I can't wear (and wouldn't even if I 'could') are short skirts/dresses. Not like I'm one to walk around in super short things anyway, but I'm tall(ish), so even the length of this dress is inappropriate for my office.
Just a tip for anyone who runs into this issue: If you ever find yourself standing in front of the mirror asking yourself 'is this dress/skirt too short for work?' - the answer is YES. If you have to question it, even for a second, YES IT IS TOO SHORT. No matter how cute or comfortable you are in it, even if the hem is an appropriate length after all, you will worry about it all day. And on this particular day, you will undoubtedly be called into a meeting with very important people at your office. Happens every time.
On the Casual Friday topic, let me preface by saying that I know ALL office environments are different and have varying dress codes. Fortunately, looking like a polished and classy professional is generally expected on some level at any company. I'm all for taking the opportunity to wear jeans and dress down a little - but if you have any interest in climbing the corporate ladder, get used to dressing every single day in something that you would be proud to have worn the day you met your _____ (insert CEO/CFO/VP of Whatever here...you get the point). You can still wear jeans and have a more relaxed look on Fridays, just understand that 'Casual Friday' is NOT meant to be an opportunity so that all of your peers at work can see you in your jeans, t-shirts, and flip flops. Essentially, everything else in your outfit stays the same on Fridays - you just substitute dressy trousers or skirts with denim. NOT super skinny jeans, and NOT distressed jeans. I love them both for weekends but they are absolutely not corporate office appropriate. You may have a bit more freedom in your work wear on Fridays, but remember that you are still at work. Well, not for much longer... because it's Friday :)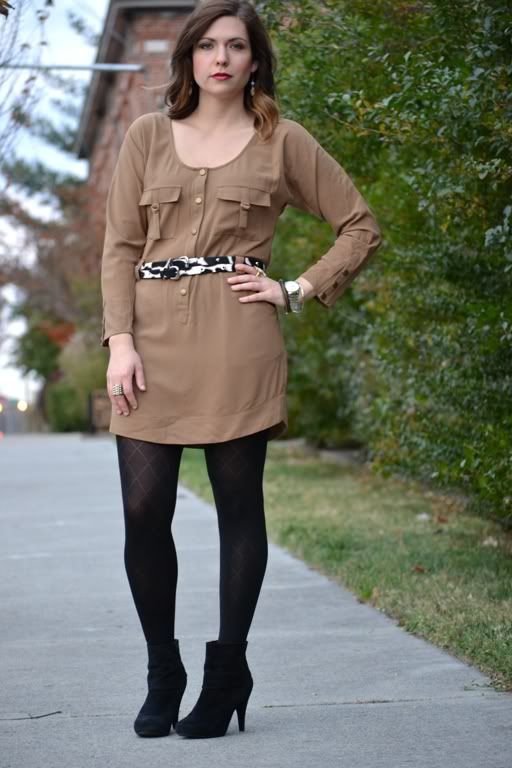 Blue Juice dress , Karen Millen belt, Spanx tights, Michael Shannon booties, F21 bangles, NY&Co earrings, Michael Kors watch, Anna and Ava giraffe ring, studded ring from Posh boutique