Not long after I started this blog, a good friend at work asked 'does having this blog now make you feel pressure to dress better for work every day?' Hmmm. What a great question. My answer is yes and no. (This is completely on par with my typical, non-committal responses for just about any other question in life). Most days I think I do try to represent my blog and why I started this in the first place. I actually plan what to wear, down to the accessories, and plan to take pictures before work. I try to wear outfits that are more creative than simply 'meeting' the dress code, and that reflect my style and personality outside of work.
But then there are those
other
days. You know those kind of days I'm talking about... the ones where you're doing your best just to get out of bed and get to work at a time that isn't downright professionally unacceptable. The days when you look at all of your shoes and opt, again, for comfortable flats over your best 4.5 inch platform-yet-still-appropriate-for-work-heels. The days when you're thinking about how much you have to do once you get to the office, and every minute you spend getting ready takes away from getting those things done at work. These are rarely blog-worthy outfit days.
Because I've had several of those days lately... I decided to post an outfit from one of them. Once again, a less glamorous side of me as a fashion blogger. Truthfully though - while this post won't get as many comments as one when I'm perfectly accessorized, layered, unwrinkled, and wearing the go-to bold lip color of the moment - if I'm being true to myself and why I started this blog, I
should
post this.
This is just part of who I am.
I LOVE to dress up, but I also love to just be comfortable some days. Hell, some mornings I just don't have enough brain cells firing to think about what I'm wearing enough to look cute. I could live in these flats. I love the fact that this sweater (that was like $15 at AT Loft on sale) feels as comfortable as a sweatshirt. Also, these are the kind of pants that fit just fine when you put them on in the morning, then are at least one size too big by mid-afternoon (when I took these pics, obviously a baggy mess). But they're comfortable.
Some days I just choose comfort, especially those
other
days.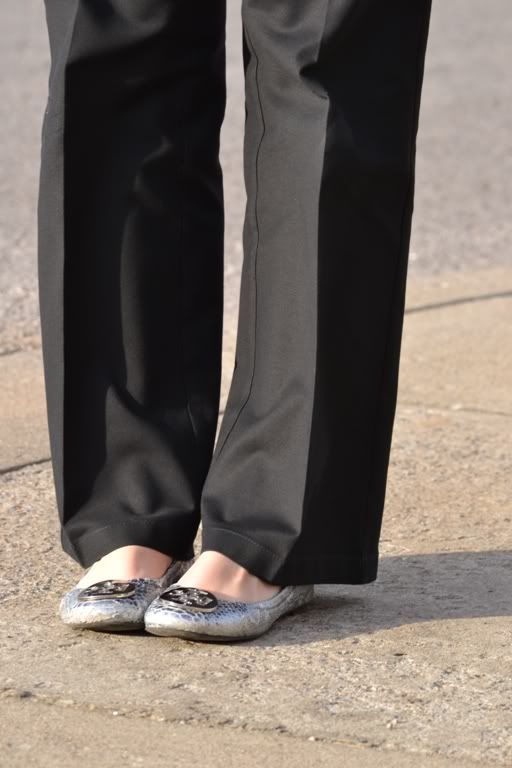 AT Loft sweater; Ann Taylor pants; Tory Burch flats; Michael Kors watch; Posh boutique ring; necklace from Woo Nashville (similar here only $35!); D&G aviators; old earrings