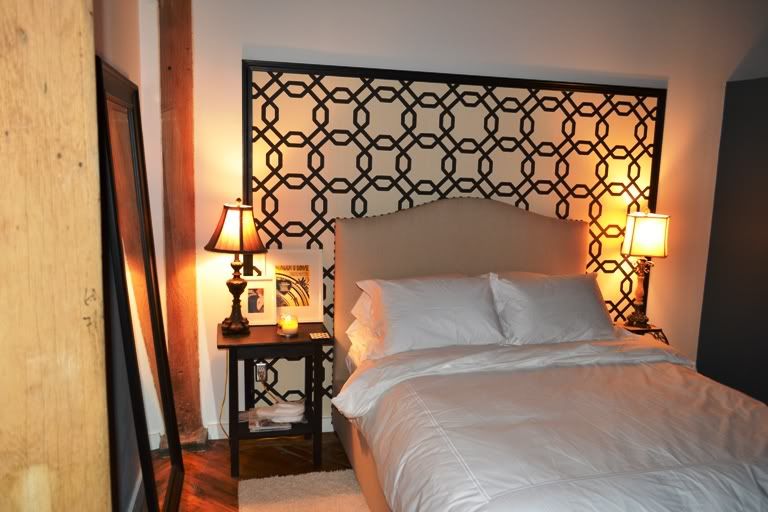 So when I moved into this loft, one of the most aesthetically-challeneged rooms was this guest room. The walls are at an odd angle, the 'headboard wall' is about 20 ft fall (not an exaggeration), and the room is rather small. A small guest room doesn't bother me all that much... not like guests really need a full dresser or chest to house weeks worth of clothes or anything. The oddly angled exterior walls do add a bit of interest and dimension to what would otherwise be a very boxy shape. But that 20 ft white wall. Gah, did that keep me up at night (I want to act like that is a joke, but sadly, I did lie awake at night - on pinterest, mostly - trying to figure out the best way to make that look better.) At first, I thought I would just compensate with a tall upholstered headboard in an interesting color or print fabric. Insert my fear of commitment pertaining to furniture and that idea got tossed pretty quickly. I knew I would tire quickly of whatever color/fabric choice I made and didn't want to re-do the room 80 times. So I researched and studied and browsed and merged several bits of inspiration to piece together this DIY. I am so, so pleased with the way this turned out.
Side note: this room is FAR from finished. Please ignore the tragic lamps, side tables, and poor lighting.
First, I saw
this post
on another blog (actually I saw the pic on pinterest first that led me to the blog - which I LOVE, btw), and read all about the Sherwin Williams removable wallpaper that they used in their apartment. I absolutely LOVED this pattern. After deciding to go with the wallpaper method, I looked through so many wallpaper books... and always went back to this as my favorite. Obviously, wallpapering a 20 ft tall wall was out of the question (for me, at least) - but I wanted to create interest behind the neutral oatmeal-colored linen headboard. I decided that measuring and wallpapering a section of the wall behind the headboard and framing it with some black painted trim was the best idea.
Before:
The only thing done at this point was that the exterior walls had been painted a dark blue/navy color. It doesn't really show that well in these photos, but if anyone is interested in knowing the exact color just shoot me an e-mail. Unmade bed and all, sigh (sorry Mom).
During:
After measuring, we drew with a pencil on the wall where the molding would go. Then we put the wallpaper up. It took 5 cut strips of this for us to do this much of the wall. This part took less than an hour.
Then I painted the trim/molding strips that were cut to the size that we needed. I used a Behr semi-gloss primer and paint in one. Yes, that is parchment paper underneath the painted boards.
After:
Once the paint dried on the trim, we put it up around the border of the wallpaper and trimmed any excess paper. I also made the bed. You're welcome.