Hands down, the best thing about the blog world is the wonderful people you meet. Emily Hallman, of
emilyhallman.com
, is no exception. I have always been amazed by people who possess the talent to design and create their own clothes... so getting to know Emily has taken my admiration to an entirely new level. First and foremost, she is real. A REAL Southern woman... full of class, style, and ambition. I had the wonderful opportunity to meet and interview Emily for Pencil Skirts and Lattes. From the first moment we met I was charmed, awestruck, and have definitely never laughed that hard before. This is what happens when a fashion blogger and a designer meet for brunch during a windstorm: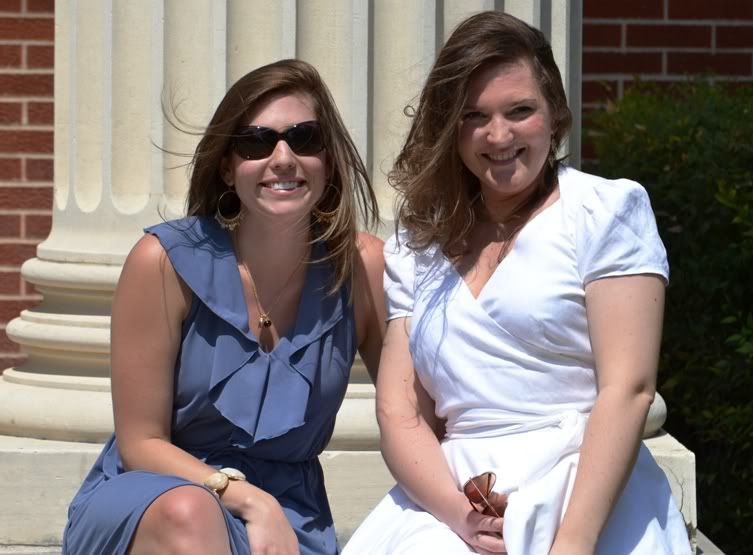 During the next week, I'll be styling several pieces from Emily's fall collection on Pencil Skirts and Lattes. Stay tuned to see her amazing clothes featured here, and also an
exclusive discount code to emilyhallman.com JUST for PS&L readers
!! With that, I'll let all of you get to know Emily a little bit through this interview that I was so happy to have the honor to do.
_________________________________________________________________________________
PS&L:
So Emily, did you always know you wanted to create lovely clothes for a living?
How long has fashion/designing clothing been a part of your life?
EH:
I've known for most of my life that I have certain creative talents. It took a few years, however, to hone in on exactly what those talents were and how best to execute them. My love for clothing truly began at age 8 when I made a suit for my younger brother using only copy paper and staples. When I discovered that I could actually study fashion and build a career around it, I jumped at the opportunity. Since I graduated from college,
not a day has gone by that I haven't sketched, researched, created patterns, or sewn something.
PS&L
:
I am beyond thrilled at the opportunity to feature some pieces from your AMAZING fall collection on Pencil Skirts and Lattes. What were your primary sources of inspiration for this collection? Are there any fall trends that you've specifically incorporated into your designs?
EH:
For fall, I based the idea for the collection on everything that I love to wear--full skirts and dresses, tailored blazers, and great fitting trousers. I used fabrics that I love, and I highlighted a trend toward a return to
ladylike, classic dressing.
PS&L
:
Tell us more about the thought process behind these amazing designs. What types of things are most important to you when designing pieces... the shape, fabric, movement, etc?
EH:
The thought process behind a collection is considerably longer than you might imagine. The most important factors when I am conceptualizing a collection is how well matched the chosen fabrics are with the designs I have in mind.
Good design is nothing with a fabric that doesn't make sense
.
I love playing with volume and tailored shapes, as well as how a garment moves on the body. Clothing that moves with you is incredibly flirty--not to mention it's fun to wear.
I never want to be restricted in what I'm wearing, and I want my customers to feel the same sense of comfort and freedom.
PS&L:
With all of that, you must know exactly the kind of woman for which you design these fantastic pieces. How would you describe the perfect 'Hallman' woman... what types of qualities does she possess? What would we all love about her?
EH
:
First and foremost, the Hallman woman is . . . a woman. I design grown-up clothing for confident, chic women who enjoy ladylike clothes made with the finest materials.
Here is what we love about the Hallman woman:
her clothing is an accessory to her personality, not the definition of it
.
She dresses to feel good, and isn't impressed with passing fads or amateur design. She loves special details, exquisite tailoring and proper fit. The Hallman woman is smart, charming, funny, and incredibly stylish.
PS&L:
You are clearly SO passionate about your designs and such a talented artist, but I happen to know that you also work VERY hard at your business. Based on the long hours and sleepless nights, what advice would you give to others who want to make a career for themselves in fashion design?
EH
:
Education, education, education. A successful career in fashion design is not one that can be had by simply "buying a book" and throwing yourself into it. As much as this industry has grown in popularity over the past few years, design is still a trade, and I am a firm believer that there are basic, fundamental skills that one must learn before exploring career opportunities in this field. You can't buy a career in fashion.
Education, talent, and preparedness will take you beyond the superficial efforts of the imposters.
PS&L:
Wow, I might have chills right now from hearing that. Being the inspiration that you are, I know PS&L readers will be interested to know what's next for Emily Hallman designs. Aside from the sparkly winter collection (that I'm DYING to see!!), what does the next year look like for you?
EH
:
I love that you are as excited as I am about the holiday collection! After it launches in October, I will be hard at work on the spring collection. You can expect some beautiful silk and cotton prints and lots and lots of linen. I'm also excited about getting Emily Hallman pieces in stores across the
country!
____________________________________
Here is a sneak preview of items I've styled from the new Emily Hallman fall collection!! More to come this week...