I'm so thrilled to post this MAJOR giveaway opportunity for 2 READERS (!!) in support of the recent release of Monster.com's professional networking tool,
BeKnown
. The giveaway consists of the "BeKnown Interview Survival Pack" that includes a limited edition beauty kit by Benefit Cosmetics, super cute (yet professional) business card holder, and a $10 Starbucks gift card!! See prize pack below (I am in LOVE with this Benefit case with the leopard accents!!... and you all know how I feel about Starbucks)
For this post, I wanted to show a few of the professional looks that I've featured on PS&L. A mix of business professional and business casual looks, these are some of my favorites in terms of outfits that really allowed me to incorporate my style into my work wardrobe. The entire point of this blog was to express myself as much at work in my style as I do outside of work, just in a dress-code compliant way. I strive to look put-together, confident, chic, and trendy all at the same time. If that sounds like a challenge, hopefully some of these looks will help inspire you to dress for yourself and your career!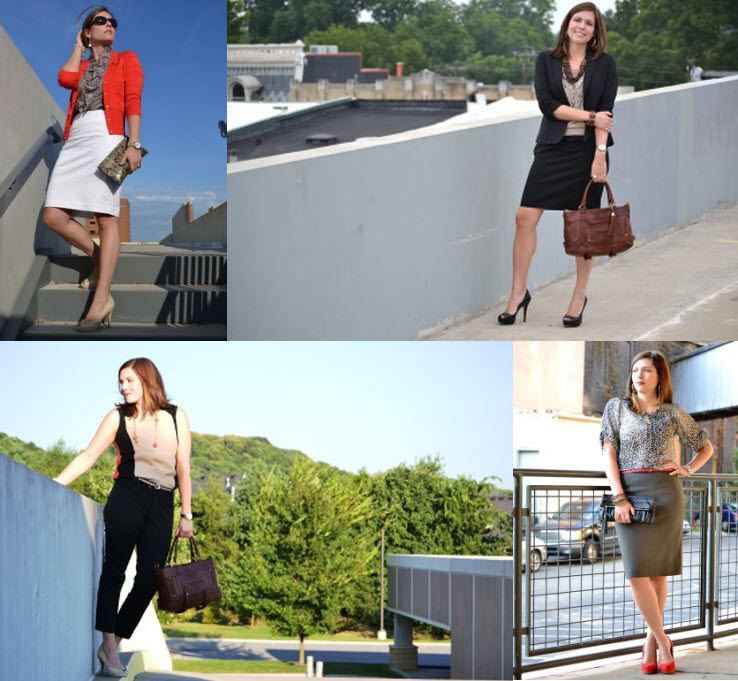 More About BeKnown:
Monster.com recently launched BeKnown, a professional networking app for Facebook. Since young professionals spend more time on Facebook than any other networking site, Monster wanted to give young people the opportunity to network professionally within the world's largest and most popular social network. BeKnown allows you to set up a professional profile directly on Facebook that is completely separate from your personal Facebook page (think along the lines of a network within a network). It also lets you conduct a job search of Monster's database of jobs without ever leaving BeKnown or Facebook. By tapping into the networks of their Facebook friends, young professionals can easily connect, send messages, and see who among their existing contacts is connected to a company or job opportunity they are interested in.
Learn more and Follow BeKnown here:
Facebook
Twitter
iPhone app
Android app
Video guided tour
TO ENTER THIS GIVEAWAY:
1) Follow Pencil Skirts & Lattes via Google Friend Connect (just click 'Join this Site' above!)
3) Comment below letting me know you've entered!!
The winners will be selected randomly and announced Sunday, Dec 4. Good Luck!
Disclosure: For posting this giveaway, I will receive a similar prize pack to the one above. T
his giveaway is only open to US residents