You know those fitness magazine articles where those women with their perfectly sculpted bodies - wearing the most chic workout attire - try to illustrate exercises in pictures that really just piss you off? This post is basically my answer to those articles. This is the anti-sculpted, anti-chic, REAL woman workout post. This is just me, on a very typical weekend day, going to the park to get some exercise and enjoy the beautiful weather. No cute outfit, no makeup, clearly without having done anything to my hair other than getting it out of my face. Ironically enough, this post came at a time when there has been a lot of Twitter buzz around what bloggers 'really' look like, how unglamorous our lives probably really are, etc. I had decided that I want to start documenting some things in my life that are behind the scenes of my blog that definitely contribute to it. Since mentioning weight loss in my About Me page, I've been asked lots of questions over e-mail and Twitter about how I lost weight. If you've come here looking for a weight loss secret, you will certainly be disappointed. Come to find out, there is no substitute for eating well and working out. (I know, bummer). If it's any comfort, I struggle with this every. single. day.
Please understand: I don't like working out. Yes, I feel great afterward and of course I have more energy when I work out regularly, but I am a holy terror when it comes to exactly 2 things: 1) waking up in the morning and 2) working out. (
FINE, I'm a terror when it comes to more than just those 2 things. But for the purpose of this blog post, only those 2 are relevant. Unless I think of more
.) I have tried virtually every group fitness and cult fave fitness bandwagon there is, and nothing ever really stuck. I finally found a recipe of things that work for me when it comes to maintaining the weight where I'm most comfortable being (
+ or - 5 lbs. happens to be in the +5 range right about now. ish. swimsuit season is over, give me a break.
) Seriously... the main thing is that I have a great partner in this who is as invested as I am in being more healthy. He inspires me to make better choices. We have off days, and we get it back on track... together. We hold each other accountable and call each other out on our crap when we're trying to have cupcakes for breakfast. I think you have to put yourself into a situation that plays to your natural strengths. For example, I have no willpower at all. Like - zero. It's scary. But I am a really supportive, protective friend when it comes to certain things. I may not always make the best decision when it comes to myself, but when I feel that someone I care about is depending on me to make better decisions - it's a game changer.
The other factor in this that is so, SO crucial for me is a personal trainer. (If you're in Nashville, do yourself a favor and give
this guy
a call. I cannot say enough great things about him.) It really isn't what I thought it would be... he doesn't bark orders at us or push us to do more than we are comfortable with. He's just an awesome guy, who tells you what workouts to do/watches to make sure you're doing them correctly. He tells you which foods to eat and which to avoid. He asks what you ate recently - which actually does factor in to my decision when I'm faced with the fried food line vs the salad bar in the cafeteria at work. He asks about your day, your family, your job, your life... and before you know it, you've been working out for an hour. I actually find that if we cut back our workouts to less than twice a week, I'm anxious that we will have more than an hour worth of 'stuff' to update our trainer on when we see him. I understand that having a personal trainer isn't going to work for everyone. It is expensive - we had to decide that it was an investment we were making that is more important than paying more rent or having a nicer vehicle. (Funny how having a nicer YOU is the last thing most people factor into their financial planning). Also, not everyone will get as lucky as we did and find someone as a trainer who is a great match for us.
I took the opportunity to do some of the exercises that our trainer makes us do in the gym while enjoying the day at the park. So this is me, really doing these exercises. I have tons of room to try to keep improving, I'm just sharing what is working for me. Hope this helps.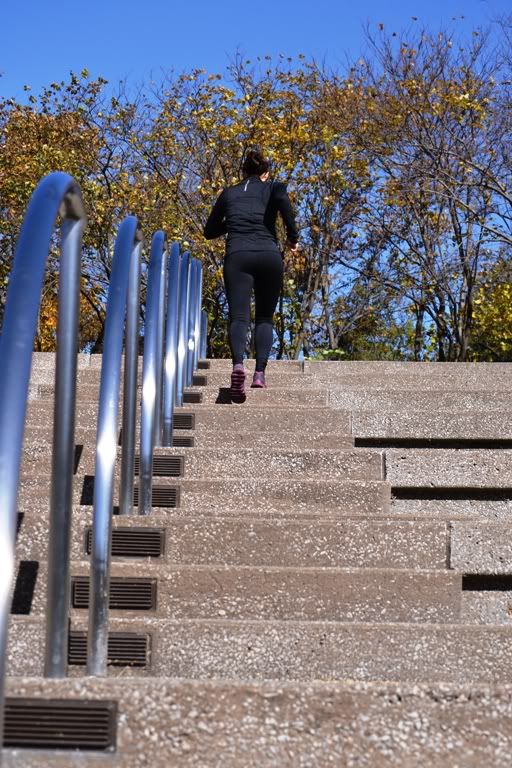 Yes, I HAD to do the whole Rocky thing after running those stairs...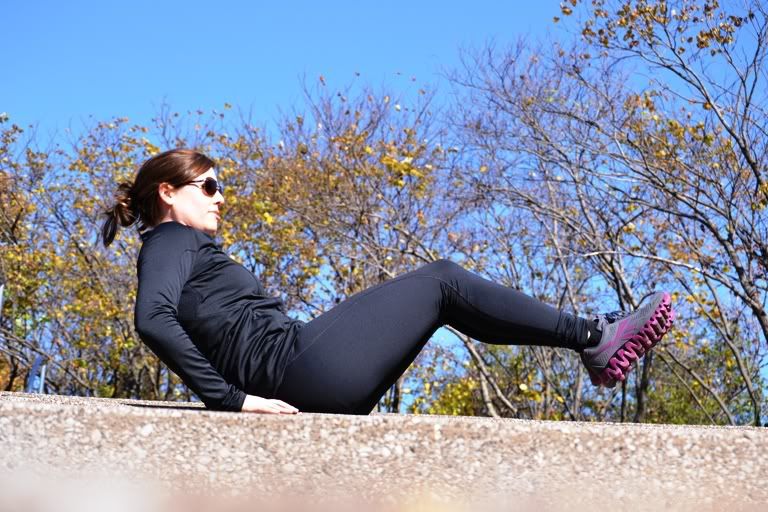 Park bench push ups. PS: push ups are my least favorite thing. They hurt.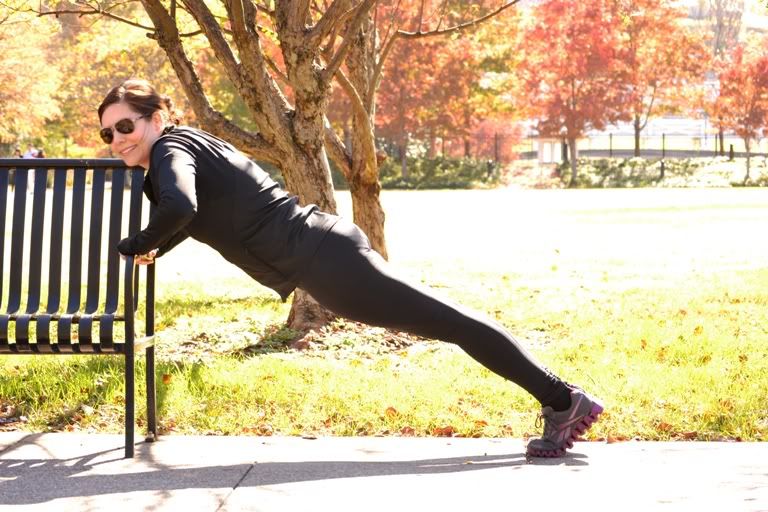 Aaaah plank pose. It seems easy enough until you're about 20 seconds into it. Once your whole body starts shaking, you only have about 10 more seconds to hold it ;)