Well. I'm back. What I learned from
last week's post
is that obviously what I experience on a daily basis is quite common. Guess that means I'm not the only
lucky guy
sucker out there. Sigh.
Before I begin today's lessons, I must tell you a funny story. It was just the other day when my fashionista was walking across the room in what could only be described as some kind of rodeo clown getup (sweatshirt over nightgown over leggings with bright pink and orange socks). I laughed. Hard. I got glared at too.
The Fashionista: Oh good, you can this as material for your blog post.
Me: Hon, you really don't need to feed me any material for that. I've got enough as it is.
And so the saga continues. I welcome you to
Day 2: Whining
.
Session 1:
"I have no clothes"
Several readers of Pencil Skirts & Lattes are mothers. While I have no kids of my own, I often feel like I can relate to those that do. But before I go down that road, let's take a trip down memory lane. So to speak.
If you recall from
Day 1
, I have been challenged. Challenged with a rather large closet and no space for my simple set of clothes. There's no need to guess what occupies that space. You all are just alike. Every fashionista needs an exorbitant amount of clothes. And shoes. Can't forget the shoes. While this seems like it would make getting dressed in the morning that much easier (it's like shopping every morning!), apparently it has the opposite affect.
Back to my 'child.' There she stands. Gazing down an endless sea of silk, cashmere, cotton, and (let's be real) polyester. Thousands upon thousands of fashion combinations. And then I hear it.
"I have no clothes."
Are you kidding me? Either she's looking in my drawer (I've recently branched out to 2, by the way. Not sure what I'm going to put in there, though.), or her cataracts are acting up on her. Surely she's not looking in the closet. Actually, she isn't. She doesn't have to. Because every stitch of clothing this woman has is hanging on every door frame or strewn across the bed. Where's the fashionista? In the closet. On the floor. Like a 2 year old.
Whining.
Session 2:
"I have no money for clothes"
Nashville is an amazing city. It has all the small-town feel in a metropolitan area. For the fashionista, it even has some amazing shopping. Lots of boutiques that she loves like
Posh
,
Blush
, and
Festivity
as well as some more well-known stores like Nordstrom, Tory Burch, and Louis Vuitton. A wide range to suit any designer preference. Or so I thought.
I like travelling. Love it, actually. I've been to some amazing places. Seen some amazing things. Hell, drove from Houston to Nashville and back with no radio or music of any sort. Just me and the open road. So when the question came up -
"Wanna go to Atlanta this weekend?"
"Sure,"
I said. Why not? I'm up for a good road trip. I'll book the hotel now. Oh wait. The hotel has to be right by...the mall? Whew. Not the mall. I'm sorry? Did you just say TWO malls?? Yes, folks. From the hotel room, you could see not just one but TWO rather large shopping malls. No swimming with the dolphins on this beach excursion. Instead, it was Jeffery, Saks, Intermix, Bloomingdales... The prime steak dinners were the only things keeping me going after 11 straight hours of walking around two different malls searching for the right dress only to look at the price tag and hear that phrase (let's all say it together, kids)
"I have no money for clothes."
But we didn't leave empty handed. No way I was going to let that happen. So she got a belt. And (more) shoes. And we went home. Four more hours in the car.
Whining.
(and... proof of the '2 mall view' incident for your viewing pleasure. I know you like pictures.)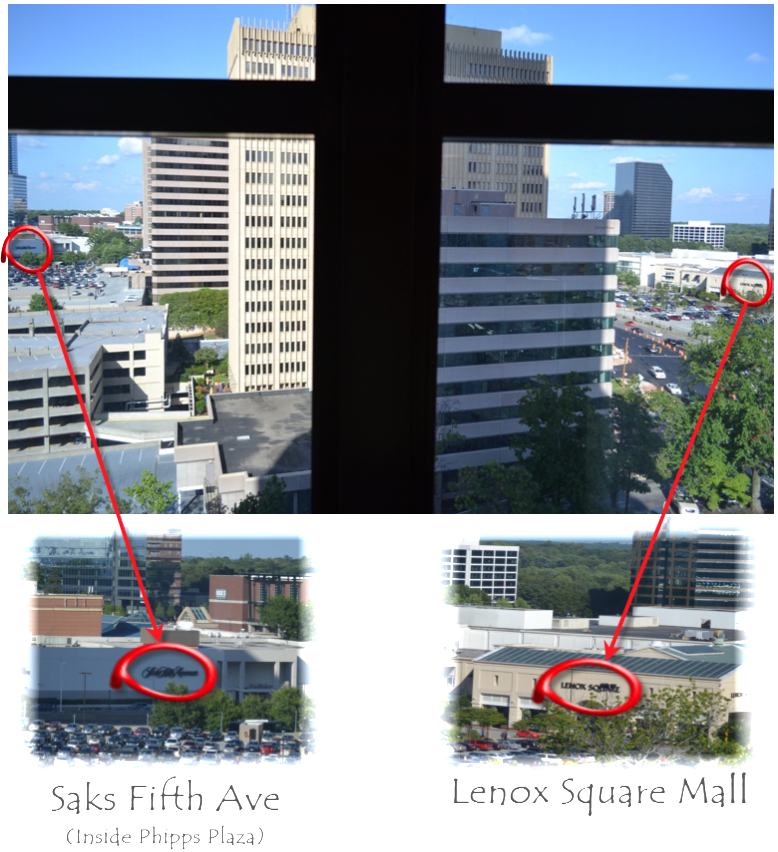 Session 3:
"Buy me some clothes"
Jim Carrey cracks me up. Seriously. His stuff is gold. Not sure what happened with
Ace Ventura: When Nature Calls,
though. Could have lived without that one. But ya gotta give it to the guy. Very unique comedy. I mean, who doesn't think of Jim Carrey when they think of the Grinch?
We were out one sunny afternoon when my fashionista was doing what she does best - shop. We had already enjoyed some delectable brisket tacos and some scrumptious cheesecake (if you haven't noticed by now, I expect great food if I'm going to endure any type of shopping). Several stores later, I was carrying bags in each hand containing what had to be at least forty pounds of shoes. Her bank account looked like it had gone a few rounds with Rocky Balboa.
I'm convinced Ann Taylor's marketing department has a whole division who's sole purpose it is to lure in my fashionista. No matter how hard I tried and how far away we were from the sign, she still saw it. 40% Off Everything In The Store. Her eyes lit up, and I knew my arms were about to feel pain like they had never felt before. But she new the predicament she was in with her spending. With a look of sheer desperation, she uttered the words
"Buy me some clothes."
I suddenly felt like I was sitting in the movie theater all those years ago watching a classic Jim Carrey movie -
Dumb and Dumber
. Only this time, Jim had it wrong. Because there was my fashionista. Making the most annoying sound in the world.
#Whining.
_________
Gents, we all know we're stuck in this situation. There is no light at the end of the tunnel. There is no rest for the weary. But it doesn't mean we can't take advantage of it. Next week:
Day 3: Acceptance Without Assimilation
.