Let me explain.
I just wanted to get away for a few minutes on my lunch break but didn't feel like eating. Of course, the only other thing that makes sense to do on my lunch break is shop (you know you agree). So what if I was taking a break from my extensive retail therapy to try to shop my closet and to save some $ for a fabulous Rebecca Minkoff bag? I was just going to "look to see if TJ Maxx had any good stuff." Yeeeeah.
So I enter the store and head directly to the purses. Mind you, I'm saving for a purse I really want... and don't need a purse otherwise. But I head for the purses. Good sense, I tell you. Anyway, I go through all of the purses, aisle after aisle of a decent selection of bags, when suddenly I see this BEAUTY on the very last hook on the last row of purses. "No, it couldn't be. There is no way. I've never known this TJ Maxx to even carry that brand!" I think as I dart toward the bag, shoving anyone between me and the object of my affection completely to the side without regard. As soon as I picked it up, I
just knew
. (I imagine this is like the feeling I hear about when people experience love at first sight.) This was a LOVELY Rebecca Minkoff handbag, in the perfect style and perfect color for which I had been saving. And at the perfect price. Was this meant to be? I'll just say fate isn't necessarily my thing, but I believe in meeting the perfect handbag at the perfect time...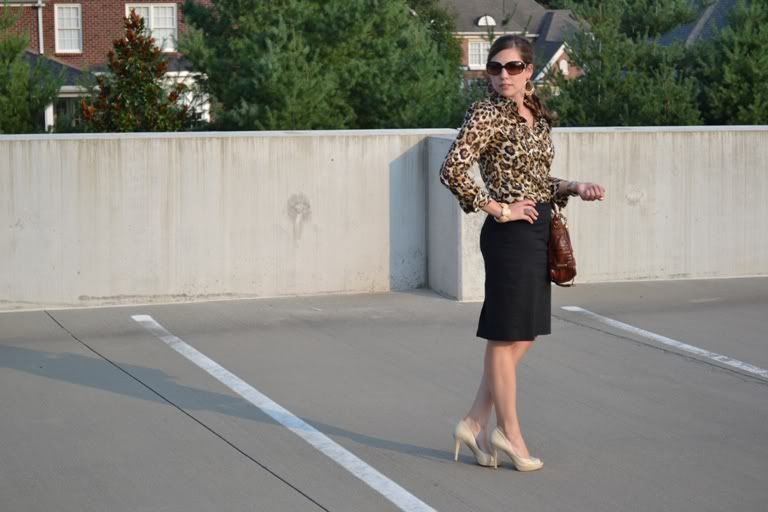 Michael Kors shirt (THRIFTED!!) and watch, AT Loft skirt and ring, Vince Camuto shoes, F21 earrings and bracelet, Coach sunglasses, Rebecca Minkoff bag