If you've read my 'About me' tab - you already know that this blog is partly about me embracing my corporate dress code and styling it my own way. I've gotten lots of questions (and seen questions on lots of other blogs) about how to incorporate your own unique style into a business professional or business casual environment. People - let me tell you - this is one topic on which I feel highly qualified to offer my opinion. Not only do I work for a southern, ridiculously conservative company - I also meet with executives all day, and the dress code is even more strict than any other corporate job I've had. One tiny example - I can't wear capri or cropped pants unless I have a matching jacket. While I'm not a huge fan of capri pants - I do LOVE the look of a good pair of cropped trousers with heels for work. Challenge extended....
For this outfit - I not only met the dress code.. I did a fresh take on the classic suit. I love how both the cropped pants and jacket look more modern than a classic suit. I also added a statement necklace, work-appropriate red lips, and a messy bun to give it my own twist.
A few of my rules of thumb on incorporating your own unique style into a business professional look:
1)
Put a modern spin on a classic suit
: My suit in these photos is basic black... but I did a cropped pant and 3/4 sleeve jacket to make it both summer-friendly and modern. Also, so many stores have suits with cute details right now - a different color seam, pleats, ruffles... if you tend to gravitate toward any of those details for clothing outside of work, try getting a suit with one of those elements so you can still feel like yourself when you're wearing it. (Someday I will post my 'styling for a job interview' tips which speak to the importance of still feeling like YOU when you're dressed to impress)
2)
Make a statement, but know when to shut up.
This one may seem obvious, but sometimes I see people go overboard - when if they had stopped at 1 or 2 flashy pieces, it would have looked a bit more classy. In this outfit - I picked statement jewelry in one bright color to make this look pop. Could I have added a leopard-print belt? Sure. Could I have worn more colorful heels? Absolutely. Could I have styled an additional color (turquoise, for example...) with this red jewelry for more of a trendy look? Of course. But for the environment in which I work, I chose to stop while I was ahead. None of those other things would have been over-the-top or tacky looking (I'm actually re-thinking the turquoise jewelry decision as I type this) - but this goes back to feeling like yourself and being comfortable. I have to perform under pressure in my job - and the last thing I want is for my personal style to distract from my ability to do that. I want my look to ENHANCE my performance - and let me tell you - if I wasn't already sassy enough at work......... this red jewelry and lipstick did the trick :)
3)
Comfort is key.
This is honestly the most often forgotten rule of looking great (already judging those 4 inch heels I have on in these pics? not so fast...). I wear heels to work almost every single day. I love the way they make me look and feel at work. I never buy a pair of heels that are intolerable from a comfort perspective. That being said, EVERY pair of heels starts to feel uncomfortable after a while (especially when you have to walk back and forth between several different buildings for your job) - so I bring matching flats to work in my bag every day also. The majority of the time, I don't even change in to the flats - but knowing they're available if my feet start aching gives me extra peace of mind to feel confident in my heels all day. Also, I make sure my clothes are easy to wear, breathable (this is CRITICAL for summer in the south), and I don't wear anything fussy. You all know what fussy clothes are. Fussy pieces are those shirts that the buttons gape open when you sit down (FYI - either buy a bigger size or invest in some double-sided fashion tape to adhere the fabric in between the buttons), pants with a hem that drag the floor, jewelry that clanks around on your keyboard all day, etc. People - fussy clothing and/or accessories will ruin your day. It doesn't matter how great you look - if you are irritated that your shirt won't stay tucked in or that one of your shoes slips off the back of your heel when you walk - PLEASE do yourself a favor and don't wear it again. One thing I've learned from this blogging experience is that some people look fabulous all dressed up, and some look just as fabulous in shorts and a tank top. If you are uncomfortable and feel awkward in anything you're wearing - you can't be confident in it. Everyone wants to look confident in their stylish ensembles...and comfort
is
confidence.
So there you have it, my rules of dressing for success. Take 'em or leave 'em, these are 3 things that have always worked for me. I'd love to hear if any of you have any tips on styling workwear!!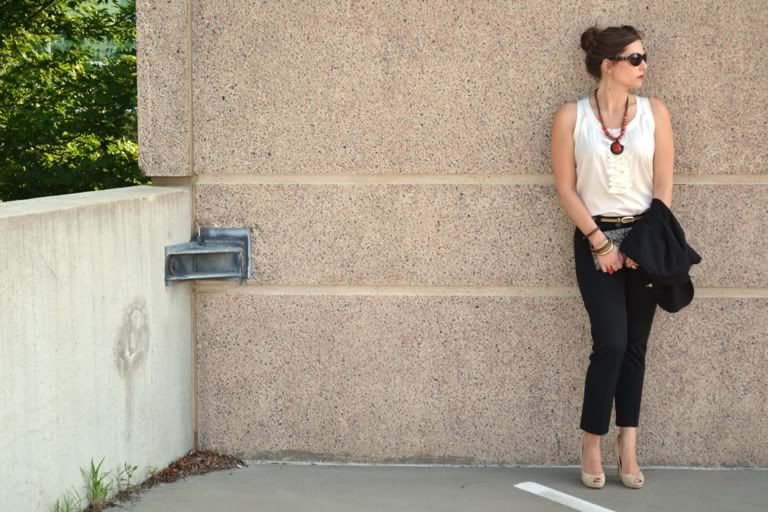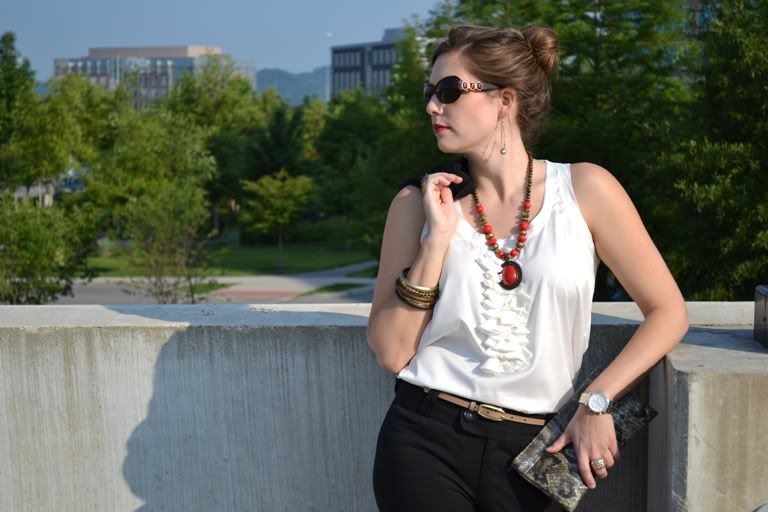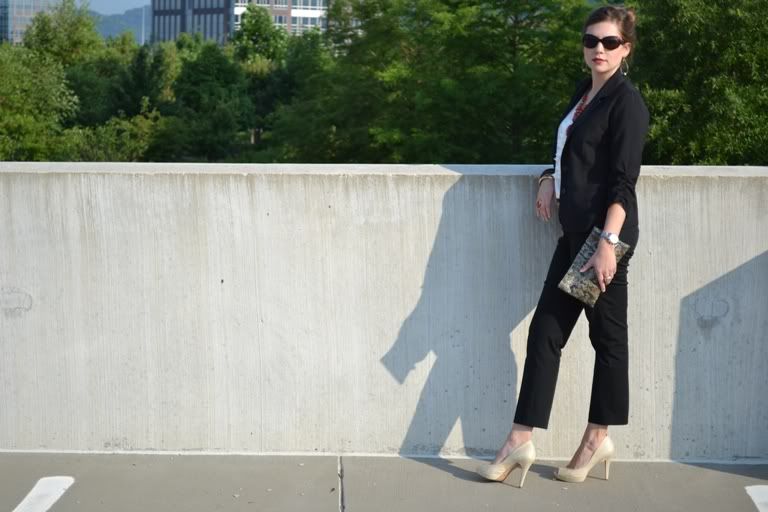 Banana Republic cropped trousers, camisole, and belt; F21 jacket, necklace, and red ring; NY&CO earrings (old), AT Loft bangles, gold ring and Eliza B clutch (from Coco Bay boutique), Vince Camuto pumps, Michael Kors watch, random old sunglasses